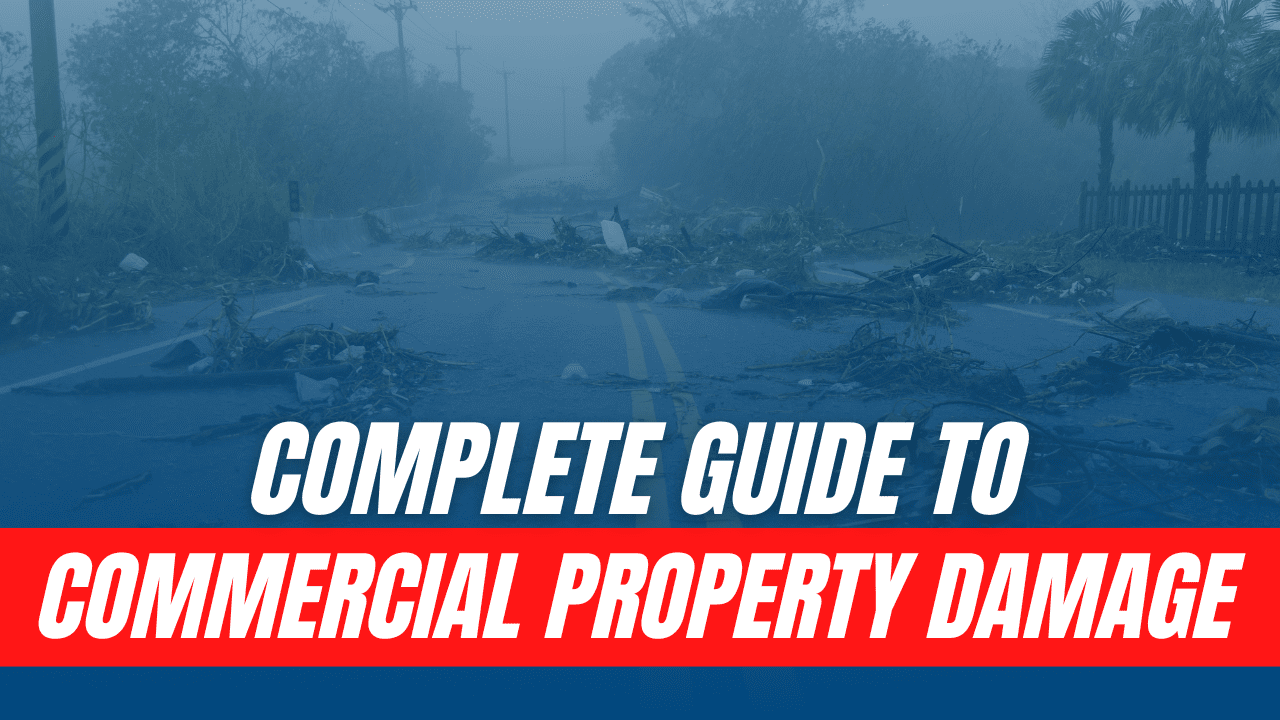 Complete Guide To Commercial Property Damage Clams
The Impact Hurricanes Have On Businesses
Although companies incur fees for insurance to cover themselves in the case of property damage or liability, many are met with hurdles when trying to file a valid claim. Factors such as policy language, exceptions within the policy, and an unreliable insurance company can all play a role in limiting how much an owner will be compensated. The amount received from hurricane damage claims in Florida also varies greatly depending on other conditions including:
Location
Coastal areas, like Miami, are more likely to experience hurricane damage, and some states' hurricane seasons can last for months. If you live in Florida or another state with similar natural disaster occurrences, certain private insurers may not cover hurricane damages in full so it's critical that you double-check what's covered when deciding who insures your business.
Scale
If a large hurricane hit tomorrow, and your business was destroyed, how much would it cost to get back on your feet? Would you be able to cover the fees associated with relocating your employees temporarily, as well as monthly operating costs and losses in profit? If not, then you need better business interruption insurance.
Structure
The amount of money required to fix your buildings significantly depends on their age and design. For example, flooded basements can damage foundations which then weakens the whole building. Different levels of multi-story buildings may also require different amounts of repairs, some not covered by insurance–leaving behind only aesthetic problems.
Pre-Existing Damage
Insurance companies will frequently attempt to avoid paying out deserved claims by coming up with excuses. For example, they might try to say that the damage was caused by something other than the hurricane, such as wear and tear, lack of proper maintenance, or pre-existing damage. However, if a business has records indicating that they regularly inspected their property and performed recommended safety procedures and repairs–i.e., routine building maintenance inspections–then insurers are less likely to be able to deny coverage based on those practices (or lack thereof).
Industry
If a hurricane hits, the amount of damage your company sustains depends on the type of business you run. For example, farms are likely to see extensive flooding that destroys crops or washes away livestock. This can lead to significant income loss. On the other hand, industrial manufacturers could lose millions of dollars worth of heavy machinery to water intrusion. A business with more than one location must insure each site separately, either under a parent policy or as an individual entity with its own coverage limit. For example, if you operate a limo or taxi service, your commercial auto policy should protect against non-collision damage for your whole fleet – especially considering that hurricanes can lead to vehicles becoming stranded in floods or caught away in storm surges.
Documentation
To get a fair value for your claim, your insurance company will probably want extensive documentation, like lists of what was damaged and receipts for any money you spent out-of-pocket. Property owners who estimate the worth of their losses soon after a storm by doing property inspections, updating records, and making itemized lists of assets are much more likely to be repaid fairly because they have solid proof of each loss's cost.
How to Protect Against Hurricane Damage Losses
Business losses add up to about $9 billion a year from hurricane winds and flooding, but commercial insurance claim payments only cover around 40 percent of those losses. The remainder of the restoration costs or lost income either come out of the owner's pocket or cause the business to go under permanently. However, by taking some proactive steps, owners can increase their chances of being reimbursed for a larger portion of their losses. A few things business owners can do to prepare to include the following:
Plan For Worst Case Scenario
If you haven't updated your policy in a few years, you may be surprised to find that your coverage doesn't reflect the true value of your business. Hiring an inspector or private adjuster could save you millions when it comes time to file a claim, especially if you increase your policy limits to cover a large loss or total loss of your business.
Reread Your Private Insurance Policy
How long will your business income insurance cover you for if you have to stop working? If more than one event damages your property, will they pay out for both causes? What exactly do you need to happen in order for the extra expense or umbrella coverage endorsement on your policy to be triggered? Will the payments be lower because of depreciation on your property value? All of these factors can reduce how much money you get from a claim or whether it's rejected entirely.
Take Advantage Of Additional Options
The most comprehensive insurance for hurricane damage is the one that accounts for your individual needs. For example, you might need building ordinance insurance to rehabilitate a destroyed property up to today's building codes, utility interruption insurance to make up for perished food products, increased cost of construction coverage in order to avoid shortages and delays while rebuilding, or inland marine insurance because precious belongings were carried away during transit before or after the hurricane hit.
Securing Federal Coverage
If your business is located in an area prone to hurricanes, remember that resulting floods can last for weeks and completely halt your operations. Most commercial property damage policies don't cover the flooding caused by natural disasters, so it's wise to secure a separate policy through the National Flood Insurance Program (NFIP). This way, you'll be compensated for repairs to the foundation, electrical systems, structure, and contents if they're damaged in a flood.
Contact Our Miami Commercial Property Damage Attorney
Decades of experience allow our Miami commercial property damage attorney to handle even the most complex property damage cases for individuals and businesses throughout Florida and across the nation. If you're currently facing a dispute with your insurance carrier due to hurricane/windstorm losses, we're here to help. We understand how devastating it can be to lose your property in a storm, which is why we're committed to helping people in this difficult time. If you're looking for ways to get the most insurance coverage for your losses, our office can help. We offer free consultations and can assess what options are available to you and your family. Contact us today to learn more.